How to keep the gardens.
Over 900 days of blockade Summer and Mikhailovsky Garden was badly damaged by bombing and shelling from the dug-shelters slots by gardens. In the spring of 1944, the gardens were covered with funnels, trenches, broken trees, stumps stuck out. In the Summer Garden, as soon as the threat of shelling of the city was under threat, a commission to assess the damage to the garden was working. All the destroyed and maimed trees and bushes were taken into account, the area of ​​destroyed lawns and paths was established. According to a survey in the Summer Garden was destroyed 328 trees and bushes 360, 245 is broken trees and shrubs 225 mutilated. The amount is huge, but it could be more if the garden workers under the direction of the senior gardener P.K. Lobanova did not care for the garden. Under the supervision of a gardener digging shelters and pits for shelter sculptures so that less damage the root system of trees. Therefore, there were no trees for this reason in the Summer Garden, in other parts of the city many trees were lost for this reason. A case is described when Pyotr Kondratyevich forced the military to replace the maple, which they accidentally filled up with a car. Of course not all trees could be saved. In September, in the Mikhailovsky Garden near the pavilion of Rossi, when an air bomb exploded, an old huge oak was turned out of the ground. It was necessary to saw this tree for firewood. Only thanks to the selfless work of gardeners caring for gardens and managed to keep St. Michael's old gardens during the war.
Information about the losses caused to the garden and park economy of the Summer Garden.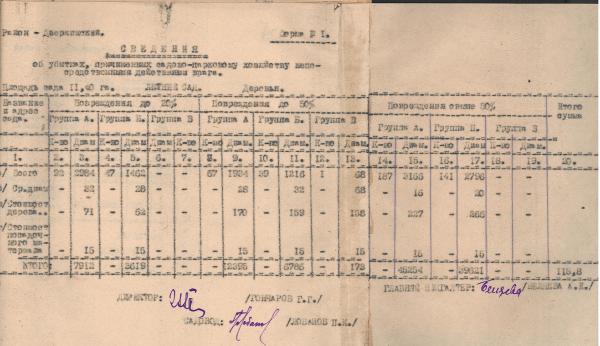 Summary table of damage to the garden and park economy of the Summer Garden.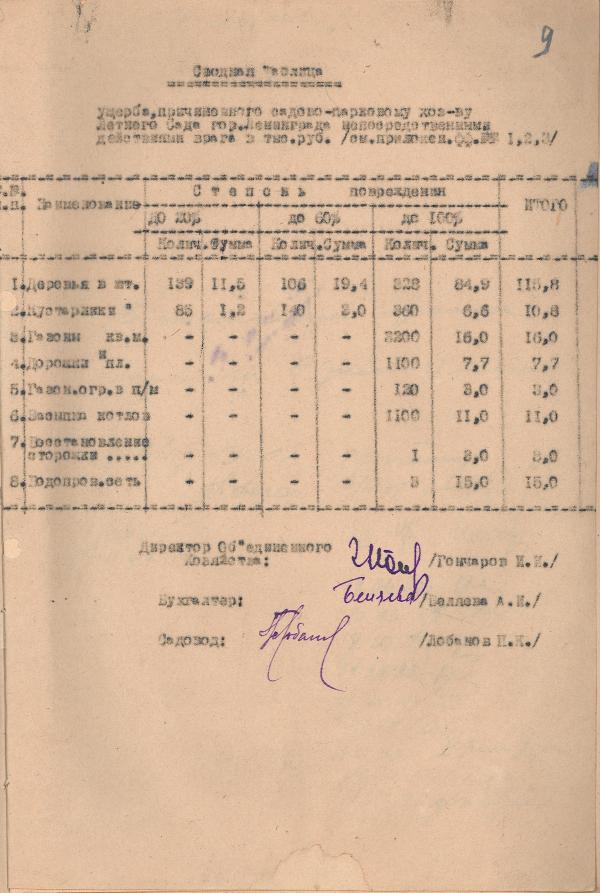 A tree, broken by an explosion against the background of a monument to IA. Krylov Photo of 1941-1944.